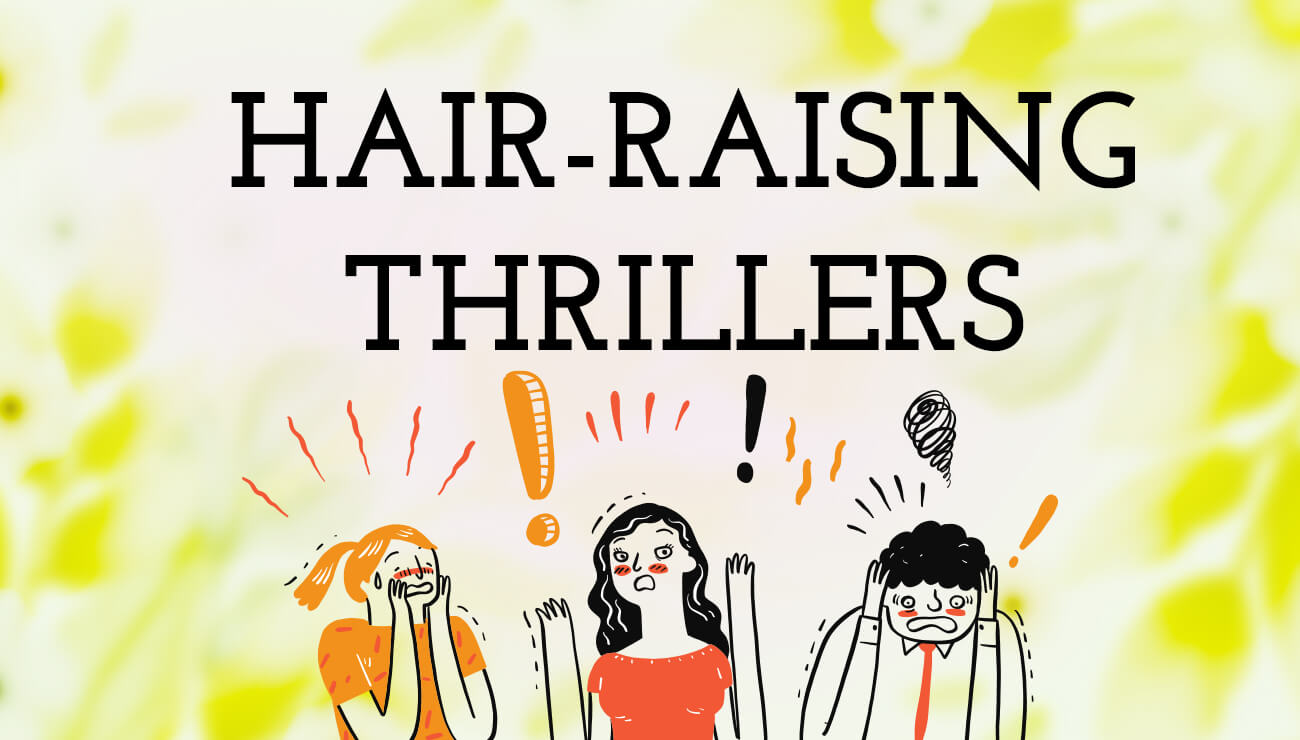 Hair Raising Thrillers
From gripping characters to nail-biting plot climaxes, thrillers have always left everyone speculating until the very last page. Here is a collection of books which contain elements of deception, drama and suspense – that will compel readers to feel an adrenaline rush.
1. Nothing Lasts Forever, by Vish Dhamija
When Raaj Kumar dies in the fire accident at Mumbai's posh Worli Sea Face apartment, Inspector Michael D'Cunha is called upon to investigate the intricacies of the case. He is convinced that it is not a regular incident but arson. It may either be for insurance or revenge for an unfaithful relationship.
Meanwhile, Raaj's close friend dies mysteriously too. Who is behind these killings? Will Inspector Michael D'Cunha be able to crack this case?
2. A Murder in Gurgaon, by Manish Dubey
When a young event manager, an ex-cop's son, is murdered in Gurgaon in December 2014, Inspector Ajai Singh is left puzzled. There is little to begin with, and frustration mounts when the initial suspect – a reclusive woman with a mysterious past – is found missing. There are deceits, little and big, to decode and the predator and victim seem to be indistinguishable. Will Ajai succeed in his mission to achieve justice?
3. Faceless: The Mystery of a carved arrow, by Ashwin Karthik
A renowned scientist is mysteriously found dead in his five-star suite. Was it a cardiac arrest or a well-planned murder? As Inspector Abinay and his sidekick Lance set out to unravel the mystery, a young historian speculates the involvement of a two-thousand-year-old secret society in the killings. Will Abinay and his team reach the bottom of the mystery of the carved arrow?
4. The Sinners, by Sourabh Mukherjee
Soon after Vivek Oberoi's involvement in a sex scandal in NexGen Technologies made headlines across the world, he was found dead in his penthouse. Who is behind the sinister conspiracy?
Read this fast-paced thriller with a shocking twist that unfolds against the backdrop of corporate warfare, illicit relationships and ruthless seduction games.
5. Inspector K.P Singh series, by Moitrayee Bhaduri
Intriguing stories which are inspired by real life episodes, Inspector K.P Singh series showcases the art of deciphering puzzling criminal cases. This collection captures the adventures of the brilliant and erratic Inspector Kush Singh who embarks on the journey of fighting evil forces that disrupts the harmony of his city.
So what are you waiting for! Fasten your seat bats and hop on to experience some intense action and drama!